Regular Stock Orders
ensures parts in stock when you want it
Worldwide Shipping
via DHL express
Live chat 8am-5pm every day
via - phone - messenger - insta dm- email
Comments from our Clients
Testimonials
Check this out!
We are forever adding new brands and products to our store, be sure to keep up to date here.
Litens HellRaiser 2.85" Pulley Kit for 18+ Australian Trackhawk
$1,390.00
Since the Hellcat first hit the market, it's been debated as to how much safer a clutched pulley just like the OEM decoupling 3.35" would be on modified IHI Hellcat superchargers. Litens comes through with their high quality heavy duty 2.85 pulley upgrade. Using the OEM design developed specifically by Litens this pulley will reduce stress and associated wear on your supercharger's bearings and rotors.Kit Includes:1 - 2.85" Litens Supercharger Pulley1 - End Cap (dust/tamper shield)1 - 17mm Install Tool1 - HD Belt This pulley makes approximately 15 PSI on Hellcat and Trackhawk Superchargers and 18-19 PSI on Demon and RedEye Superchargers at sea level. This pulley kit does require use of larger fuel injectors and custom engine tuning.Note 1: Pinning of the crankshaft pulley is not believed to be required with use of this pulley but no liability is assumed or implied by Sunset Speed due to any damage that may occur due to unpinned cranks.Note 2: Litens highly recommends against the use of additional idlers or heavy duty tensionsers and HD Belts with their pulley due to the higher risk of internal failure. Failure caused by running these other parts may not be covered under warranty. Warranty: 1 Year manufacturer parts warranty against materials and manufacturing defects from date of purchase. A great many owners of Hellcat-powered vehicles from Dodge and Jeep have learned that swapping to a smaller pulley adds gobs of power (with the necessary supporting modifications). The problem with the pulley swap options on the market over the past few years is that they lack the internal decoupling and isolating assembly found in the stock Hellcat supercharger pulley, but that has just changed. Litens High Performance – a division of the same Canadian firm that produces the stock supercharger pulley for the Hellcat Challenger, the Hellcat Charger, the Trackhawk, the Hellcat Redeye and the Demon – recently introduced the first decoupling pulley for the IHI superchargers on the modern Mopar monsters and it has a fitting name. The HellRaiser The HellRaiser pulley is produced by Litens High Performance and distributed by Tendeco to performance shops around North America. This pulley measures 2.85-inches and features the same basic structural design and the same internal decoupling design as the stock pulleys, but those stock pulleys are 3.43-inches (87mm). Where the stock pulley on the Hellcat cars and the Trackhawk deliver around 11 pounds of boost, the HellRaiser increases the boost pressure to 16psi. Development Details For those wondering, the HellRaiser pulley from Litens High Performance was developed with some very well-known members of the Mopar Performance community. Rob Laing of Litens (High Performance design team, and a drag racer himself) and John Lussier of Tendeco presented Hellcat and Demon owner Paul Georges with the idea. 
CROW CAMS 6.4 HEMI NON MDS CAMSHAFT - OEM GRIND
$1,128.80
Crow Cams Custom Gen III Hemi 6.4 Camshaft, NON MDS and on a billet crow cams core Add Hellcat lifters and MDS Plugs to this Camshaft and your Hemi will not fault in this area again! No tune change needed. (MDS system needs to be turned off)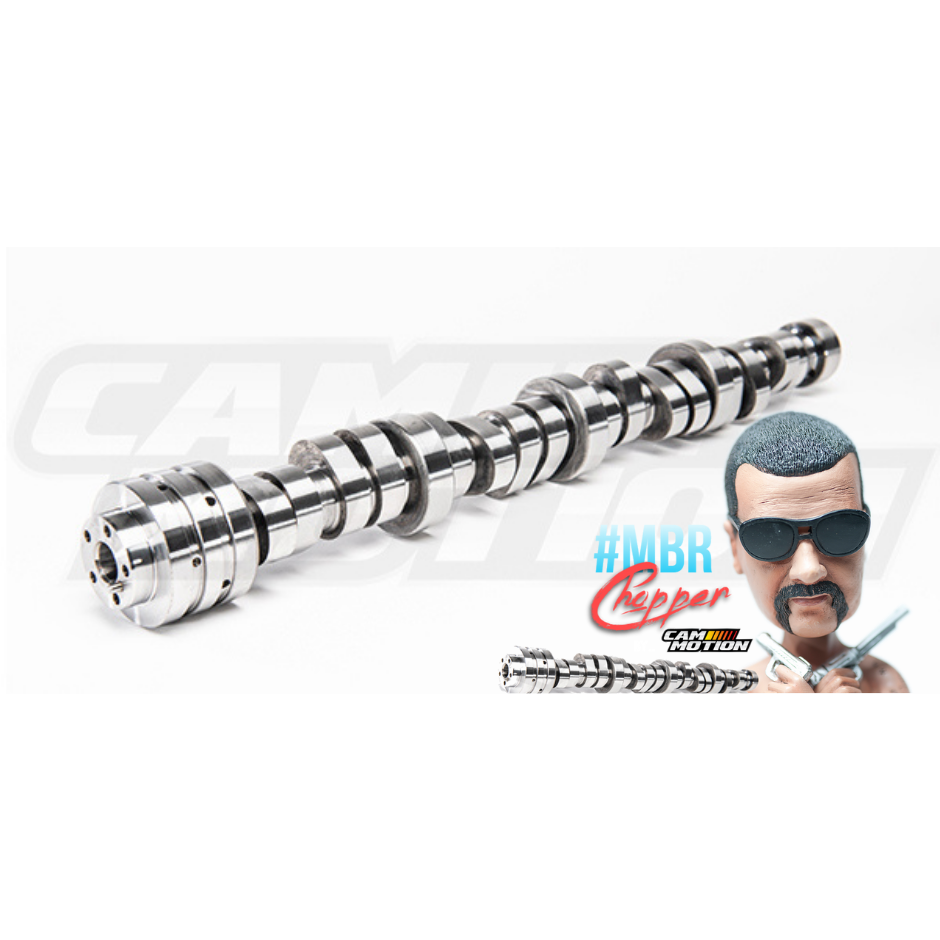 Sunset Speed / Cam Motion MBR grind VVT Gen3 Hemi Camshaft
$1,128.80
OUR MOST POPULAR N/A GRIND FOR THE 6.4 HEMI!! MBR= Mark Brandon "CHOPPER" Read, and in true style just like the namesake this rowdy choppy camshaft series always delivers.. It has its sights set on every filthy Commodore and occasionally Neville F*#kn Bartos! We are seeing RWHP figures 470+ depending on mods...  300SRT 6.4 - 5 speed NAG1 - Cat Back Exhaust , Cold Air , MBR Custom grind Camshaft with MDS Delete kit went 493 rwhp!!!! GRIND# MBR - BY CAM MOTIONHydraulic Roller CamshaftPerformanceDuration at .050": 22*/23*112 Lobe Separation Angle110 Intake CenterlineLift with 1.65 Rocker Arm Ratio: .602"/.603"Recommended Displacement: 6.4 Liter EnginesRecommended Compression Ratio: 9.0-11.0:1Recommended Headers: Stock Manifolds - 1 7/8"Recommended Stall Converter: Stock to 3200Recommended Rear Axle Ratio: Stock to 3.92:1 The MBR Gen 3 Hemi VVT Style High Performance Camshaft is designed for performance in cars using late  6.4 litre VVT-style Gen 3 Hemi engines. The MBR will have a rowdy but not obnoxious performance idle and improved power throughout the RPM range with emphasis on midrange and upper power and torque. Additional performance gains can be realized when used with headers, an increased stall speed torque converter, free-flowing exhaust and intake systems. The MBR series cams are designed with our renowned smooth cam lobe design that provides quiet valve train operation and excellent upper rpm stability.